Cheese dip, quince, 80 grams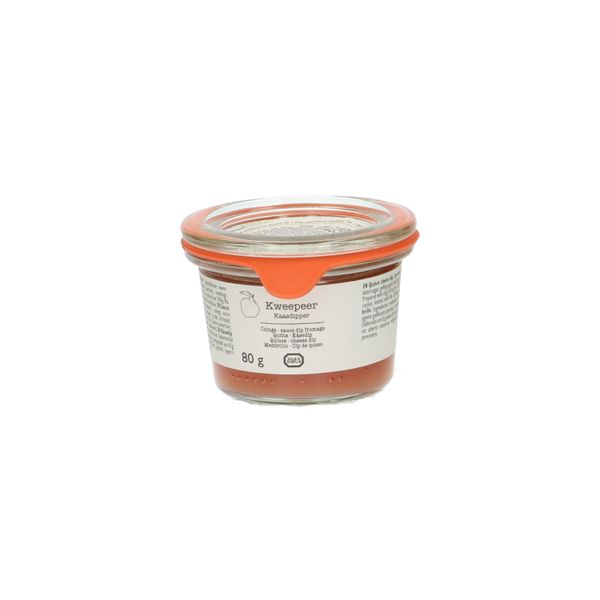 In stock
Productinformation
Complete your cheese board with this artisanal jam! The sweetness of the quince combines wonderfully with tangy cheese, of course also delicious on sandwiches. Our cheese dippers are prepared by hand in large open kettles. This naturally caramelises the sugars present. Result: a truly "home-made" taste.
With extra fruit and no artificial additives
The fragrant sweetness of quinces is delicious with blue cheese such as Gorgonzola and Roquefort, among others.
Try our cheese dip on a cheese sandwich as well
In a nostalgic glass jam jar
Contents: 80 grams
Dimensions of jar: ⌀ 8 x 6 cm
Tip:To open the jar, pull the rubber tab. This breaks the vacuum.
Ingredients: quinces, granulated sugar, gelling agent (citrus pectin), acidifier (citric acid).
Prepared with 65g of fruit per 100g. Total sugar content 50g per 100g.
Voedingswaarde/Valeurs nutrionelles/ Nährwerte/Nutritional values 100 g:
| | |
| --- | --- |
| Energie/énergie/Energie/energy: | 850kJ/240kcal |
| Vetten/matières grassess/Fett/fat: | 1 g |
| Waarvan verzadigde vetzuren/dont acides gras saturés/davon gesättigte Fettsäuren/of which saturated: | 0 g |
| Koolhydraten/glucides/Kohlenhydrate/carbohydrate: | 60 g |
| Waarvan suikers/dont sucres/davon Zucker/of which sugars: | 60 g |
| Eiwitten/proteïnes/Eiweiß/protein: | 0.7 g |
| Zout/sel/Salz/salt: | 0 g |
More Information

| | |
| --- | --- |
| SKU | 00012027 |