Gnocchi board made of beech wood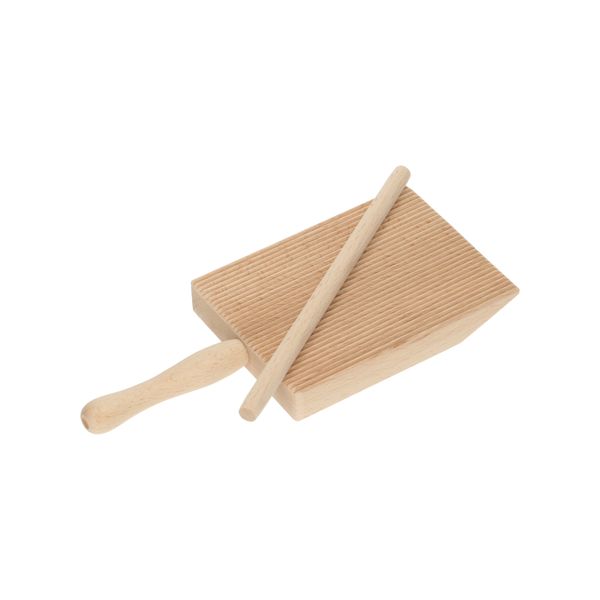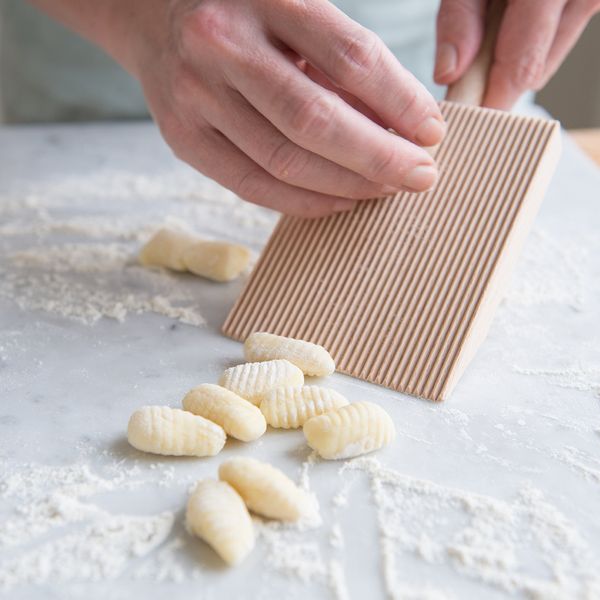 In stock
Productinformation
Made of beech wood, not dishwasher safe.
Gnocchi are Italian "dumplings" made from boiled, mashed potatoes, flour and egg. To make sure the gnocchi dough doesn't get too wet, cook the potatoes in their skins - this way less moisture penetrates the potatoes during cooking.
1. Make potato gnocchi according to the recipe on our website.
2. Rest the board at an angle on the work surface, the bottom slightly flattened for this purpose.
3. Roll the gnocchi with your thumb from top to bottom on the board and press a hole in it with your thumb.
4. Let the gnocchi rest around a floured tea towel until you start cooking them.
Garganelli, a specialty from the Italian region of Emilia Romagna, are square-shaped
egg paste, rolled into hollow, ribbed tubes. Thanks to the ridges, rich meat sauces, such as Ragù alla Bolognese, or creamy sauce with cheese, sticks well to this pasta.
Tip: Traditionally, some grated nutmeg is sometimes mixed into the pasta dough. For the pasta dough recipe, check out our site.
1. Roll out fresh pasta dough to just under 1 mm thick and leave it to dry for half an hour so that it becomes slightly firmer.
2. Cut the dough into strips 5 cm wide and then into squares.
3. Place the dough sheet diagonally on the board.
4. Roll the rolling pin from the bottom to top of the dough, this is how you get ridges.
5. Fold the top tip of the square over the roller.
6. Now roll back down again. You will thus form a ribbed pasta tube.
7. Press the tube at the bottom with the roller onto the board to seal it.
8. Slide the tube off the roller and place it on a floured wooden board or tea towel.
9. Make all the garganelli in this way and leave them to dry for about 2 to 3 hours before continuing to use them.
More Information

| | |
| --- | --- |
| SKU | 00010540 |